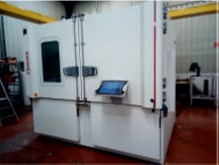 Environmental test facilities
CSMST is equipped with state-of-the-art environmental test facility, backed by an experienced research group. Environmental tests are an integral part of the development and certification process of components for Aerospace products.

Need for Environmental Conditioning / Testing
Environmental simulation is used to determine a product's ability to perform during or after exposure to a specific environment. These tests are often used to prove a product's integrity, verify manufacturer's claims regarding operational limits, determine realistic warranty terms, and prepare procedures on proper and safe operation. The mechanical, thermal and electrical properties of components change during environmental exposure. To determine the magnitude of these changes, the usual procedure is to expose the materials to a moist environment for a sufficient length of time until the moisture level inside the material reaches the required value. The material is then brought back to the natural environment and tested to quantify the changes in properties resulting from moisture absorption, which unfortunately lasts for months or years. In several circumstances long conditioning times are unacceptable. Hence, in order to reduce the time required to saturate the material with moisture, accelerated environmental conditioning tests (temperature, relative humidity and altitude) are carried out. Therefore, a variety of environments may be encountered by a product in its expected lifetime.

The Integrated Environmental Test Facility at CSMST carries out its testing activities as per ISO 9001:2008 quality procedures.
 
Clients
Aeronautical Development Agency (ADA)
Hindustan Aeronautics Limited (HAL)
Bharat Electronics Limited (BEL)
Aerial Delivery Research & Development Establishment (ADRDE – Agra)
Center for Airborne Systems (CABS)
Flotech Engineering and trading Services, Pvt Ltd, Bangalore
Flic Microwave Pvt Ltd, Hyderabad
SLN Technology Pvt Ltd, Bangalore
Spectrum Infotech Pvt Ltd, Bangalore
TSL Technologies Pvt Ltd, Bangalore
Major Assignments Undertaken
Outboard Pressure box, Wing Root Fitting Box, ECFM-EU:LRU, Function Sensor Display Unit (FSDU) and Elevon Box for LCA aircraft
Hand Pump Filter Unit for Helicopter
Textile materials for Parachute applications
TDF Radomes for the HOMI TU-.142M Aircraft
Electrometric Bearing for ALH
Buffer Amplifier & Smart fatigue meter Main landing Gear (MLG) and Nose landing Gear (NLG) Actuators for Saras aircraft
Airframe components of HANSA aircraft
Built-in Unit (BIT) for TARANG project
Solid State Flight Data Recorder (SSFDR) for SU-30 MK1 aircraft
Mission Computer 2 ( MC2) for MIRAGE 2000 of HAL
Engine Mount Gear Transmission Sensor (EMGTS) and Piezo Electric Ceramic Sensor
ICON Dhvani Controller
Standards
MIL-STD-810F/ MIL-STD-2164 / JSS55555 / RTCA –DO-160E / JSS 6625

Temperature/Humidity chamber
Make: Wadegati
Inner Dimension : 2 m (L) x 4 m (D) x 2 m (H)
Temperature : Ambient to 100°C
Temperature Accuracy : ± 3°C
Humidity : 20 to 95 % RH
Humidity Accuracy : ± 5 % RH
Rate of Heating : 3°C/ Minute
Combined Altitude, Temperature & Humidity Chamber - CATH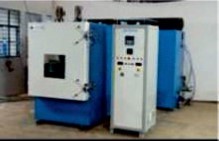 Make: Zetatek Industries)
Inner Dimension : 750mm(L)x500mm(D)x750mm(H)
Temperature : -70 to 180°C
Temperature Accuracy : ± 1°C
Humidity : Ambient to 95% RH
Humidity Accuracy : ± 5% RH
Altitude : Ambient to 1,00,000
Feet (10.9 mbar)
Altitude Accuracy : ± 300 Feet
Altitude Rate : 2000 Feet/ Min
Rate of Heating/ Cooling : 5°C/ Min. (Linear with load of 50 kgs MS)
Total Power : 165 kW
Thermal Shock Chamber (Horizontal)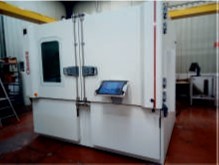 Make : Climats, France
Test Zone Dimensions (Hot & Cold Zone) : 1000 mm (W) x 950 mm (D) x 1000 (H)
Transfer Basket Dimensions : 800 mm (W) x 800 mm (D) x 800 mm (H)
Transfer Basket Volume : 512 Liters
Transfer Basket loading capacity : Minimum 100 Kgs
Chamber zone temperature range : Hot zone: +60°C to 180°C
Cold zone: -85°C to 180°C
ESS : The cold cabinet of Temperature shock cabinet
can be used as an ESS Test Cabinet with min
10°C / min change rate, in empty chamber, from
the temperature range between +150°C and 60°C
Temperature accuracy : ±1°C
Salt Spray Chamber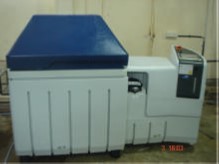 Make : Weiss Technik
Dimensions : 750mm (W) x 550 mm (D) x 1200(H)
Capacity : Approx 480 Liters
Temperature : Ambient to 50°C
Temperature Accuracy : ± 1°C
Humidity range : Ambient to Saturation
Salt Concentration : 5% NaCl
HANSA Oven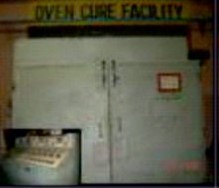 Make:In-House
Inner Dimension : 12 m (L) x 2.5 m (D) x 2 m (H)
Temperature : Ambient to 100°C
Rate of Heating : 3°C/ Minute
Temperature Accuracy : ± 1°C
Total Power : 232 kW
Temperature/Humidity chamber (Floor Model)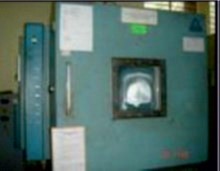 Make: AES, USA
Inner Dimension : 1 m (L) x 1 m (D) x 1 m (H)
Temperature : -77 to +177°C
Temperature Accuracy : ± 3°C
Humidity : 20 to 95 % RH
Humidity Accuracy : ± 5 % RH
Rate of Heating/ Cooling : 3°C/ min.
Constant Temperature Water Bath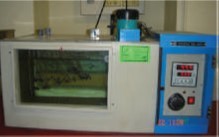 Make: Chemac Equipments
Inner Dimension : 38cms (L) x 30cms (W) x 30cms (H)
Temperature : Ambient to 98°C
Temperature Accuracy : ± 1°C
Total Power : 2 kW
No. of Water baths : 3 Nos
Hybrid Oven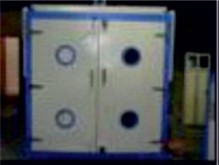 Make: Tempo Industries
Inner Dimension : 2 m (L) x 2 m (D) x 2 m (H)
Temperature : Ambient to 600°C
Rate of Heating : 3°C/ Min.
Temperature Accuracy : ± 1°C
High Temperature Muffle Furnace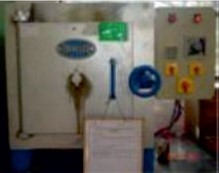 Make: Therelek Industries 
Inner Dimension : 190mm (L) x 190mm (D) x 300mm (H)
Temperature : Ambient to 1200°C
Rate of Heating : 3°C/ Minute
Temperature Accuracy : ± 3°C
Total Power : 5 kW