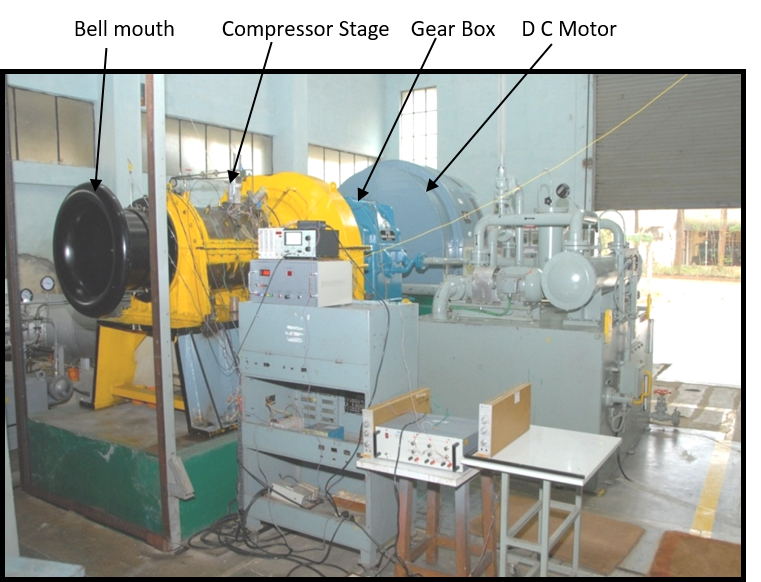 Transonic Axial Flow Compressor Research Facility [AFCR]
The Axial Flow Compressor Research Rig has been established for undertaking performance evaluation and parametric studies on subsonic and transonic model compressor/fan stages of aircraft and industrial gas turbines and other air pumping machinery. This facility is fully operational and is equipped with sophisticated computer based instrumentation for steady state as well as dynamic flow measurements.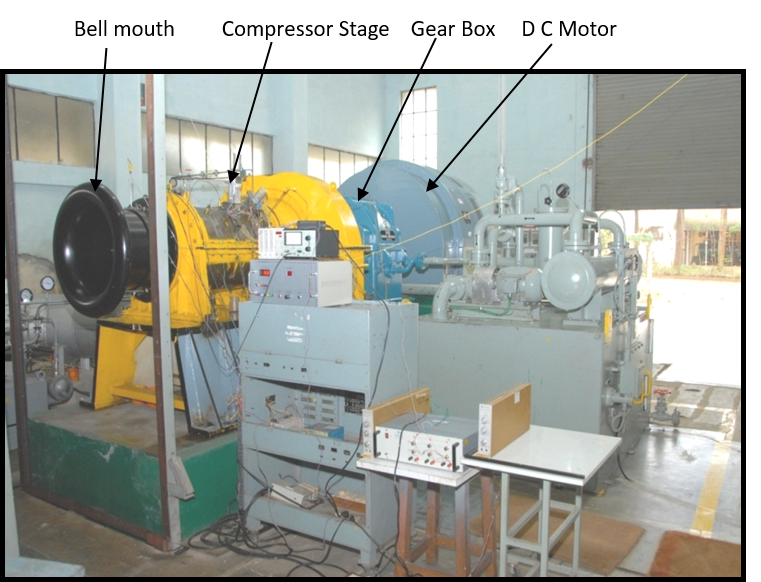 Drive System: Thyristor controlled, 1.15 MW, 333/1000 rpm DC motor with speed control accuracy of ±1 rpm with a choice of 1:18 or 1:30 step-up gear box.
Capabilities: Tip speed, mass flow rate and pressure ratio up to 500 m/s, 27 kg/s and 2.0 respectively. Hub-tip ratio ranges from 0.35 to 0.85. Possibility to test single and two stages, variation of axial spacing between blade rows, tests with and without inlet guide vanes, provision for rotating frame measurements. Detailed flow studies using 5-hole calibrated aerodynamic probe with computer controlled radial probe traverse units at inlet and exit to rotor and stator.
Instrumentation and Control: High speed electronic torquemeter, data acquisition systems, multi-channel hotwire anemometer system along with calibrator module, high response unsteady pressure sensors with amplifiers, electronic pressure scanners, strain gauges, accelerometers, multi-channel recorders. Expertise in flow measurement techniques and sensor calibration. Remotely operated electrical controls for drive unit and auxiliary equipment, remotely operated pneumatic controls for surge relief valve. Health monitoring of the test rig using casing/ bearing location accelerometers, blade mounted strain gages, eddy current probes for hot running clearance measurements, thermocouples, etc.
R&D Activities:
Effect of variable geometry inlet guide vanes

Effect of varying rotor tip clearance, uniform and non-uniform

Design and characterization of conventional and Controlled Diffusion (CD) blades

Active and passive control of rotating stall using air jets and casing treatments

Development of high pressure ratio axial fan stage with advanced blade technologies such as composite blade, swept and leaned blades, blisk technologies

Calibration of bell-mouth for helicopters engines

Steady and Unsteady CFD studies of compressor stage 
Research and Development Linkages/Collaborations
Gas Turbine Research Establishment/DRDO

Hindustan Aeronautical Limited

BUAA, Beijing, China

Technical University, Aachen, Germany

IIT s and other Indian Universities

Aeronautical Research & Development Board
List of Staff:
1. MT Shobhavathy         -              Principal Scientist
2. Dilipkumar B Alone     -              Principal Scientist
3. S Satish Kumar              -              Scientist
4. Lakshya Kumar             -              Scientist
5. GS Ravi                            -              Technical Assistant
6. K Joseph Arulraj           -              Technician II