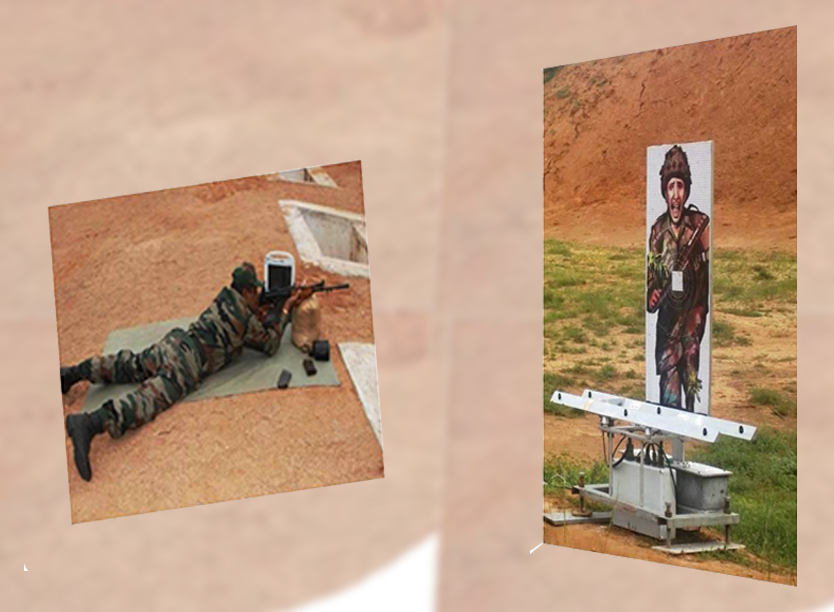 ELECTRONIC TARGET SYSTEMS FOR MARKSMANSHIP TRAINING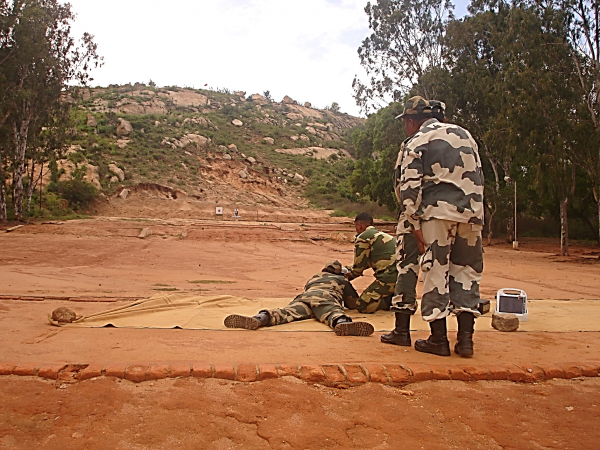 Two indigenous, cost effective electronic target training systems for perfecting soldier marksmanship skills by accurately determining the location of bullet impact on the target during training have been developed tested and successfully commercialized.
 
The 'DHVANI'– "Detection and Hit Visualization using Acoustic 'N'-wave Identification" – system works for all supersonic weaponry used by Indian Armed forces including machine gun fire. It incorporates multifunction target movements to carry out any range course exercise.
 
The 'ABHIAS' – "Acoustic Based Hit Identification and Analysis System" is a 4 x 4 target with ballistic rubber with provision to fit any target schematic required and works for all small-arms firing.
 
The system is a ruggedized non-intrusive, non-contact, acoustics based system which wirelessly communicates the results to the shooter. A life-sciences inspired algorithm enables very high accuracies comparable to the best in the world, at a fraction of the cost of similar systems available elsewhere. Each target caters for firing from 100m, to 500m firing platforms. Since the system is wireless, firers can move easily with light man-portable display to different locations without re-calibration.
 
The system incorporates all training exercise as per Indian Army SAO/12/S/85 procedure and can be customized if required. It offers both detailed analysis as well as grouping zeroing exercises. A comprehensive database of shooter performance allows instructors to gauge ability and improvement.
 
The system is weatherproofed and has been designed for ease of daily usage in a demanding repeated usage environment with capability to fully exploit the system in an open environment available on a range. The system can be permanently installed at site or prepared for use as required in a few minutes by the range personnel.
 
CSIR-NAL has inked a License Agreement with PSU Bharat Electronics Limited (BEL) for manufacturing and commercialization of these target systems.
Visit of the MoST to the DHVANI & ABHIAS stall on 02 Feb 2018 at the Technology Exhibition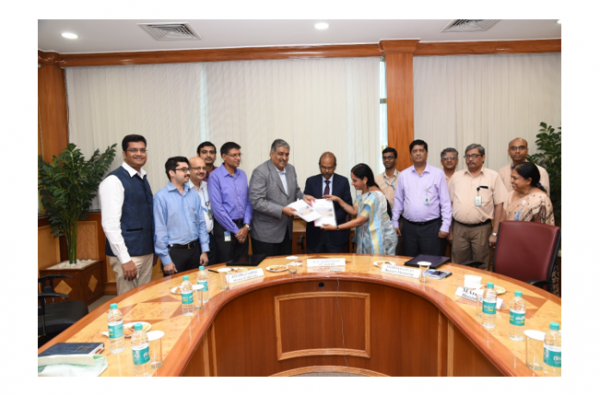 Signing of TCA by Mr. Jitendra J Jadhav, Director, CSIR-NAL and Mrs .Anandi Ramalingam,
Director (Marketing), BEL in the presence of Mr.Gowtama M V, CMD BEL.