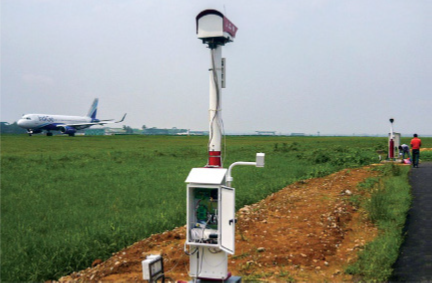 Drishti Transmissometer
Drishti is an Indigenous - Innovative –Cost effective visibility measuring system –- First of its type and CSIR-National Aerospace Laboratories is the only organization to have developed this technology in the country.  It is useful for airport operations and gives information to pilots on the visibility at the runway.
This is a mandatory equipment required for safe landing and take off operations at the Airports as per International Civil Aviation Organisation (ICAO) and World Meteorological Organisation (WMO)
The system involving state of the art technology is a significant contribution to the Field of Electronics and Airport Instrumentation.
Drishti is suitable for all categories of Airports viz., CAT I, CAT II, CAT III A & B and measures visibility down to 4 meters. It is capable of handling both low (<4 meters) and high (>10000meters) visibility accurately. It is capable of working continuously (365 x 24 hours) in harsh environmental conditions.
Automated Weather Observing Station
Drishti - Automatic weather measuring system (D-AWMS) is an indigenously developed another mandatory equipment for Airport operations which gives real time data of weather parameters like Wind Speed, Wind Direction, Temperature, Humidity and Pressure. DAWMS consists of all the above mentioned weather sensors, Signal and data processing units along with communication systems.
The sensors are mounted on a unique flexible and frangible Mast of 6 or 10 meters aiding easy maintenance of the sensors. The software is developed in Real Time & FPGA platform to give accurate weather information for the safe landing and takeoff operations at Airports.
The data is processed in engineering units and is published as per International Civil Aviation Organization (ICAO) & World Meteorological Organization (WMO) requirements.