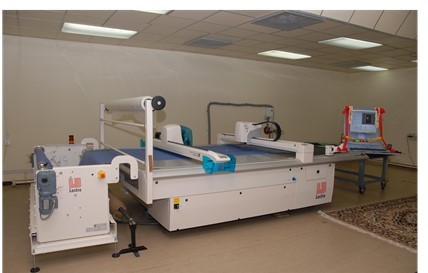 Prepreg Cutting Machine (Lectra Inc.)
Facility Name: Fully automated tape cutting NC machine
For composite fabrication it is required to cut the prepregs, carbon fabrics etc. based on the structural design. Fully automated tape cutting NC machine used to cut fabrics, prepregs and cloths etc. The key features of the machine are optimal material usage by using nesting software, different shapes/profiles of prepregs/fabrics can be cut with required orientations.
It is equipped with standard features such as
Synchronised conveyor advance with spreading tables
Variable vacuum for a better material hold
Eclipse system allows to cut the prepregs/fabrics during conveyor advance to cut continuous length
Effective dust control with energy saver mode by regulating turbine power and eliminating peaks in electrical current and
Post Print device that identifies cut pieces using self-adhesive labels and user friendly access for easy preliminary maintenance.
The prepregs/fabrics can be cut with the accuracy of ±0.4mm. The effective utilization of this machine in the division for fabricating Composite components for both LCA and SARAS leads time and manpower saving, effective utilization of material with accuracy.
Specifications:
Cutting window effective width

:

1.82 m

Cutting window effective length

:

1.7 m, unlimited by using Eclipse system

Cutting speed

:

variable at the rate of 5mm/sec to 100mm/sec

Maximum Cutting Height

:

25mm

Cutting Table

:

Conveyorized Vacuum Cutting Table with plastic bristles of any suitable flat cutting surface

Cutting accuracy

:

Max.  +0.4 mm. for minimum length of 2000mm and width of 1500mm

Vacuum

:

Variable  vacuum pressure for cutting different range of materials

Cutting system

:

Automatic knife cutter with a blade replaceable cutting head

Marking on the cut pieces/Labelling System

:

Automatic writing and printing the labels with the programmed text and synchronized with the presentation of cut pieces as they move onto off-loading area/ affixing the labels on the cut pieces

Fabric Dispensing Device/ Power feeding System

:

Automatic feed system to feed the materials on to the cutting table automatically and synchronization with conveyorized cutter.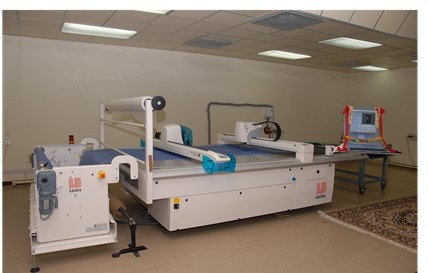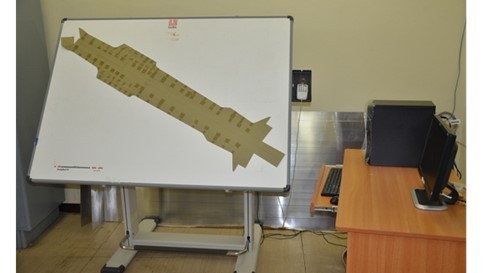 Lectra Prepeg cutting machine                                                         Digitizer to covert hard profile in soft copy