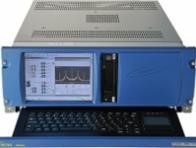 Dual-channel Cortex RTR (Radio Telemetry Receiver)
Description and Specifications: This system is currently tuned to receive signals transmitted from the Saras PT1N aircraft. (The filter bandwidth is usually in the range 1.3MHz – 1.5 MHz.) The link level for the 2 channels (LHCP and RHCP) is displayed in dBm.

Application: This system is necessary for the reception of data at the Telemetry station.