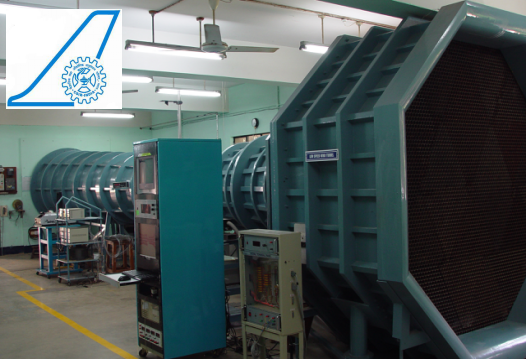 0.55 Low speed wind tunnel
The 0.55m Low Speed Wind Tunnel was commissioned in 1970 with a circular cross section test section. The circular test cross section was converted into a square cross section in the year 2000. The unique feature of this facility is that it can go as minimum of 0.5m/s. This tunnel is an open circuit type wind tunnel with a contraction ratio of 16:1. This tunnel is majorly used for research applications both basic and applied in nature.
| | |
| --- | --- |
| Test Section size and shape | 0.55m x 0.55m x 1.90 m Square cross section |
| Speed range / Mach number range | Velocity range 0.5m/s to 40m/s |
| Reynolds number range (per m) | 0.03 x 106 to 3 x 106 |
| Freestream turbulence level | < 0.2 % |
| Pressure fluctuation level | Cp variation < 0.05 |
Type of tests performed:
Steady and Unsteady force & moment measurements (T5)
Steady and Unsteady pressure measurements (T4)
Wind engineering – Cup Anemometer calibration
Flow visualization: Tuft, Surface and Smoke Flow visualization (T7-T9)
Non-intrusive flow diagnostic tests: Particle Image Velocimetry (PIV) (T2), Hot wire anemometry (T10), Hot films (T12) and Laser Doppler Velocimetry (LDV) (T13)
Special tests (other than those listed above)
Test control parameters:
Sting mounted support: Pitch -10° to 30° Steps of 0.1°
Typical test duration: Continuous, up to 4hrs
Stagnation pressure & Temperature range: Atmospheric pressure and temperature
Instrumentation:
Pressure Measurements: Furnace manometer, Setra low pressure transducers and ESP scanner
Velocity Measurements: Particle Image Velocimetry (PIV), Hot wire anemometry, Hot films and Laser Doppler Velocimetry (LDV).
Data Acquisition Systems used:
PXI -1033 integrated controller PXI chassis consist of
1) PXI-6281 DAQ card (18 Bits resolution with 625KS/s M series card) connected to SCXI-1000 chassis with 1520 signal conditioning Module.
2) PXI-6533 High speed switching DIO card.  
Special test rigs and test techniques developed:
Scotch yoke mechanism for precise control of the oscillating frequency and amplitude used for oscillating airfoil experiments.
Major Customers:
AR&DB, NAL's Centre for Societal Missions and Special Technologies, ADA, Mahindra and Mahindra
Milestones achieved:
Flow control strategy for low speed cavity aerodynamics
Studies on leading edge tubercled airfoils
Studies on drag reduction for bluff bodies using forward splitter plates
Flow control over an NACA 4415 airfoil using synthetic jet actuator
Studies of low Reynolds number on an Eppler 61 airfoil with and without Gurney flap
Study of dynamic stall on an oscillating airfoil
Studies on powered Black kite and Golden Hawk MAV's
Calibration of Cup anemometers for NAL's weather monitoring stations of Centre for Societal Missions and Special Technologies
Used Techniques are