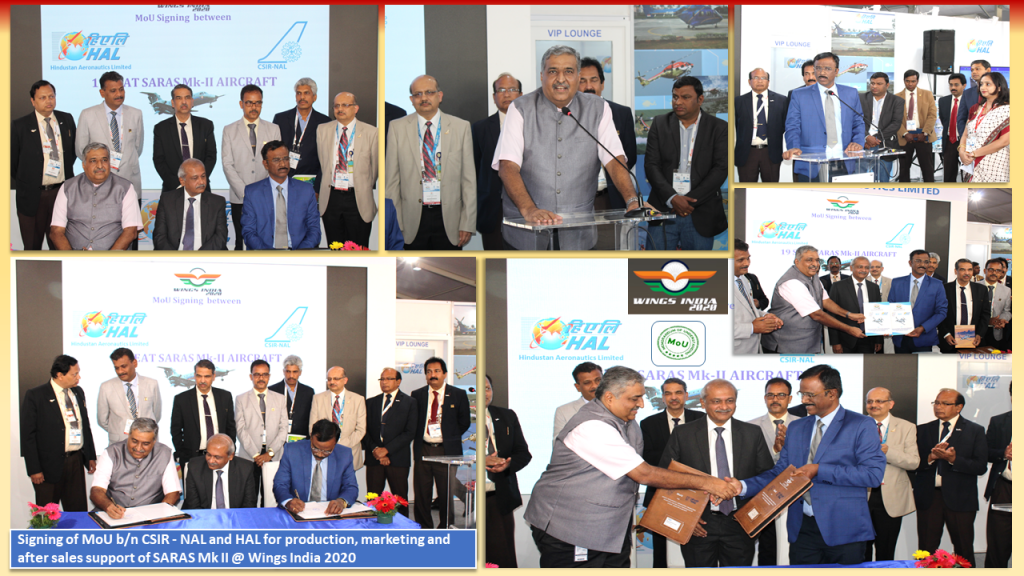 Bangalore, March 19 2020: National Aerospace Laboratories (NAL) a constituent of CSIR, India has successfully participated in the Asia's Largest Civil Aviation Wings India 2020 held at Begumpet Airport, Hyderabad from 12-15 March 2020.  India's civil aviation agenda aims for new heights with a vision for a $290 Billion spend to put 2000 aircraft in the skies by 2040, a $13.6 Billion (about Rs. 1 lakh crore) sectoral investment to fund 100 new airports in next 5 years. The big policy driver for India's civil aviation sector is the UDAN Regional Connectivity Scheme (RCS) aimed at making air travel affordable and accessible to the common-man in small town in India. The airport statistics bring out the urgency for creating new infrastructure, which is aimed at driving growth in air passenger traffic from 315 million to 1.1 billion by 2040. 100 percent FDI in both green field and brownfield airport projects create huge opportunity for foreign investors. In the event EMBRAER has brought it's E2 Profit Hunter for the first time to India for display at Wings India 2020. Embraer forecast that from 2018to 2027, there will be demand for around 10,550 aircraft in the up to 150 seat market. 
The event marked with success of NAL displaying civil aviation technologies & products like full-scale mock-up of the ongoing Hansa-Next Generation (NG) program, India's first all composite two-seat trainer aircraft ideally suited for ab-initio flying training, sport & hobby flying. The aircraft will be certified under JAR - VLA / CS -VLA Certification. The cost effective, low noise & emission Hansa-NG have option to use MOGAS and AVGAS with advanced features like full  glass cockpit, 100 hp sport engine, steerable nose landing gear and increased range (926 km) and endurance (6 hrs) is the better choice for flying clubs and has attracted many flying clubs in the Wings India 2020. As a result, CSIR-NAL has received letter of intent (LoI) from three flying clubs namely BlueRay Aviation- Ahmedabad, Prayaan Aviation – New Delhi &  Aviacons – Hyderabad for 9 numbers of Hansa-NG. This has boosted the enthusiasm of the flying clubs to furthering and support of the 'Make in India' civil aircraft product. Also, Indira Gandhi Rashtriya Uran Akademi, Amethi has shown keen interest in procuring the indigenous Hansa-NG for pilot training.     
CSIR-NAL is implementing the prestigious national programme on 'Design & Development of 19 seat Light Transport Aircraft – SARAS MKII' for both civil and military applications. The aircraft is ideal for commuter connectivity under UDAN-Regional Connectivity Scheme (RCS) among tier-2 and tier-3 cities. The SARAS MKII with low acquisition an operating cost can operate from semi prepared runways and operable from hot & high altitude airfields. The aircraft is designed to meet FAR-23 requirements. At the Wings India 2020, CSIR-NAL & HAL have come together and signed a MoU in presence R.Madhavan, Chairman HAL of for taking this indigenous development to serve the Indian Defence Forces & Civil Aviation Sector by design, development and maintenance of SARAS MKII aircraft. This a significant step in furthering the Make in India programme to realise its optimal potential in the civil aviation sector.