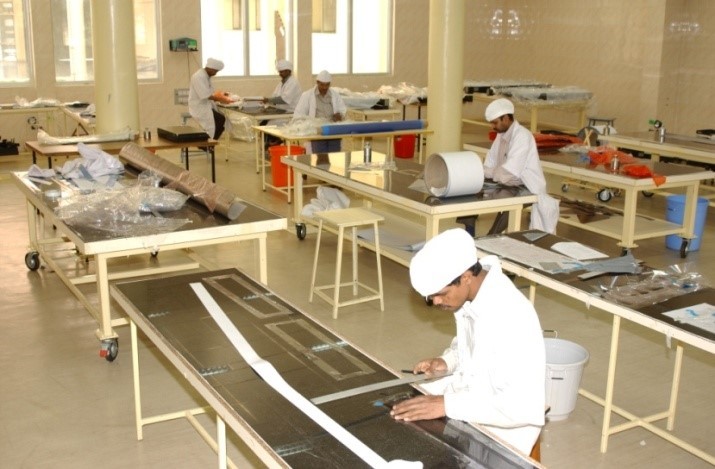 Composites Fabrication Facility
Objective of the facility :
Development of airworthy composite parts.
Specification of the facility :
Clean Room
A clean room of 100,000 class is maintained to carry out lay up of prepregs to produce airworthy parts. Temperature, humidity and dust levels within the clean room is maintained to meet the stipulated conditions in order to ensure product quality. 
Working space: 14.5 Mtr ( Length )  X   13 Mtr  (Width )   X  4 Mtr  ( Height )
Layup area clean and air-conditioned at 18 deg C to 24 deg C with Relative humidity (RH) between 40 to 70 %
Dust level maintained as per the standards
A pair of Laser Projectors working synchronously to aid faster and accurate layup activity
Vacuum facility
Working  tables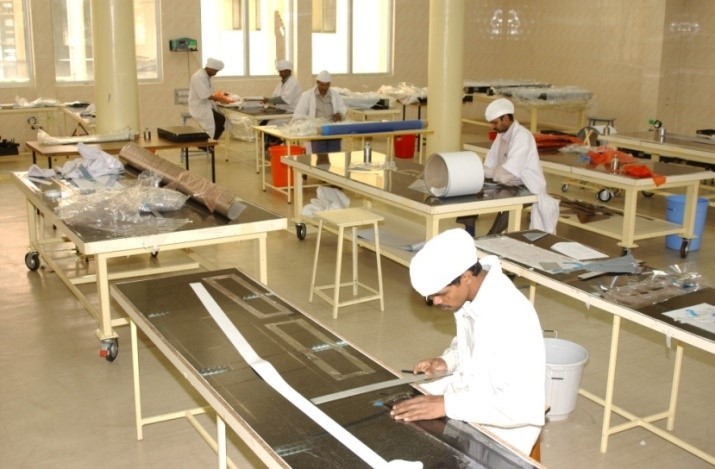 Cold chest storage
To ensure the assured shelf life and tack life of the prepregs, prepregs are packed in sealed moisture proof bag and stored in cold chest which are maintained at -18 deg C until they are needed for use.
Size: 6.5 Mtr ( Length )  X   3.5 Mtr  (Width )   X  4.5 Mtr  ( Height )
Operating Temperature : -18 deg C to –22 deg C