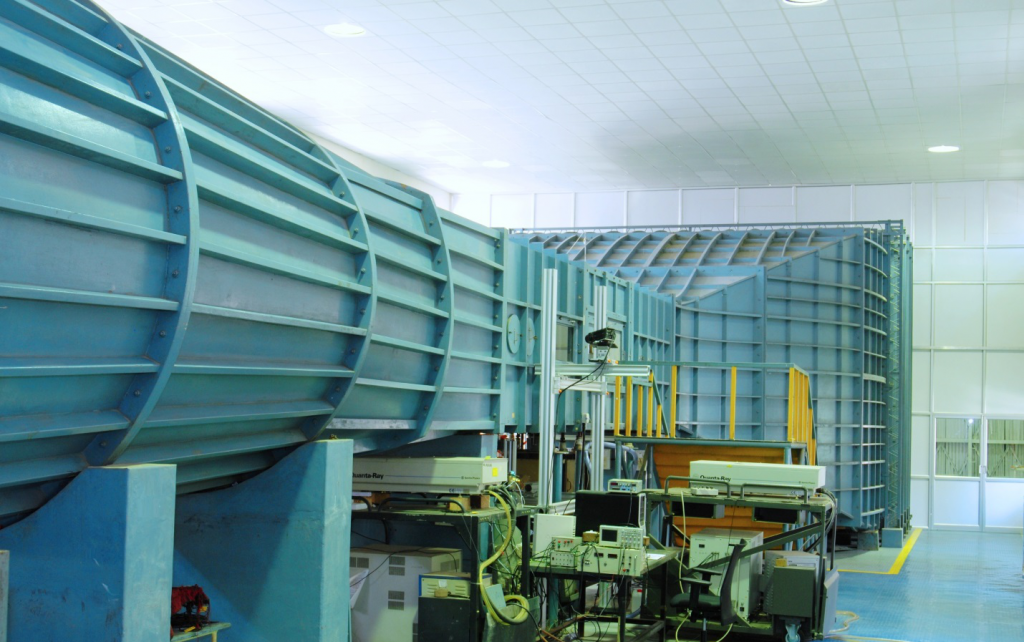 1.5m Low speed wind tunnel
The 1.5m Low speed wind tunnel is one of the very few experimental facilities in the country which is used both for industrial and fundamental research. It is equipped with state-of-the-art instrumentation for aerodynamic investigation. The experimental capabilities of this facility include force and pressure measurements for basic aerodynamic studies; particle image velocimetry (PIV) and laser doppler velocimetry (LDV) for advanced flow diagnostics; hotwire and hot-films for flow stability and transition related studies on the body of interest.
Specifications
Open circuit – suction type
Freestream Velocity 5m/s to 50m/s
Turbulence intensity Less than 0.14%
Test section size 1.5m (breadth) x 1.5m (width) x 6.5m (length)
Contraction ratio 12:1
Settling Chamber 6m x 4.5m bell mouth entry, honey comb (5.1cm x 5.1cm, 30cm deep), three screens (mesh size: 6, 3 and 1.5mm)
Half angle = 3.5o, exit diameter = 3.05m
3.04m diameter, 12 bladed
Motor rating 112.5 kW variable speed DC motor, 750 rpm (max)
Overall dimension 28m in length, 4.5m in width, 6m in height
Model support Sector turn-table with pitch and yaw capability, floor mounted support with pitch capability
Major clients of this facility
The Boeing company, USA
Airbus, France
BrahMos Aerospace, India
Mahindra & Mahindra Limited, India
Aeronautical Development Agency (ADA), DRDO, India
Aeronautical Development Establishments (ADE), DRDO, India
Hindustan Aeronautics Limited (HAL), India
KSRTC, India
Some of the notable research activities carried out in the tunnel are as follows:
Missile drop test on Sukhoi-30 MKI and Mirage 2000 scaled models
Investigation on Boeing's rudimentary landing gear
Studies on Mahindra's sports utility vehicle (SUV) model
Relaminarization studies in leading edge region of swept wing
Powered propeller measurements on SARAS aircraft model, RUSTOM MALE UAV
PIV measurements on SARAS wing-flap studying slot flow
Drag reduction studies on KSRTC bus model
Cross-flow transition studies on lower surface of 2D swept wing
Techniques employed in the facility for flow investigation
Particle image velocitmetry (PIV)
Laser Doppler velocimetry (LDV)
Hotwire and hot-films
Force measurements
Pressure measurements
Oil, tuft and smoke flow visualization.
Used Techniques are