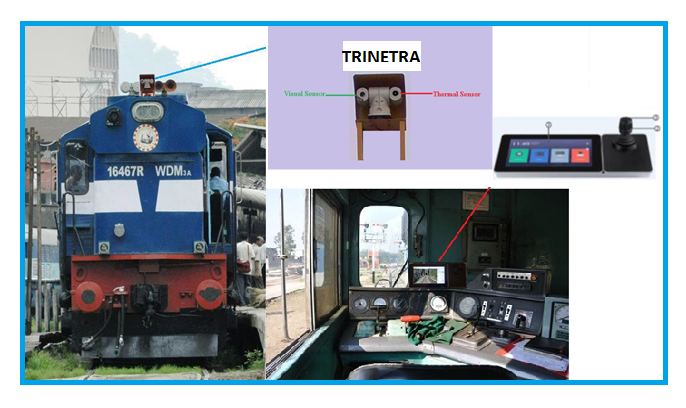 Loco-pilot vision enhancement system - TRINETRA
TRINETRA  'T' Shape Dual – Visual Thermal Sensor is a high-end camera with built in  custom-intelligent, long range view catching capability with capacitive touch screen aided by a joystick for PTZ(Pan, Tilt and Zoom) control which  promises complete visibility of the Railway track in the foggy conditions during both day and night. The device has been developed at CSIR-National Aerospace Laboratories, Bangalore  with research support of Indian Institute of Technology, IIT (BHU), Varanasi. Equipped with IR laser rays, TRINETRA will be fixed on the front portion of the engine (loco-motive) and the state of the art of technology, gives a hope  for the trains a smooth run especially in the winter, when visibility is often very poor due to fog and hence minimising the risk of accidents and causing delays or cancellation of trains.
It will efficiently catch a long range of the track and present it live on a screen fixed at the loco pilot cabin. Loco–pilot can see on screen the long range of the track up to distance of 1.8 Km(Kilo Meters) for vehicles and 700 M(Meters) for humans/animals.
TRINETRA new series dual high sensitive camera system features compact design and accurate positioning. The camera leaves no blind spot undetected on the track.
Key parameters:
1. 24-hour Real time long range view capture ability is ensured with both thermal and visible cameras.
2. 50mk thermal sensitivity and SDE digital image enhancement produces clearer image under foggy and rainy days.
3. Designed to anti-lighting, anti-wave, capability to withstand 3000V instantaneous current.
4. Aluminium alloy housing, excellent heat dissipation, working temperature   
 -35 ºC ~ +55ºC
5. IP65 ingress protection.
6. Power supply AC24V/DC24V, 2.5A (optional DC12V or AC90V~260V ultra wide power supply)