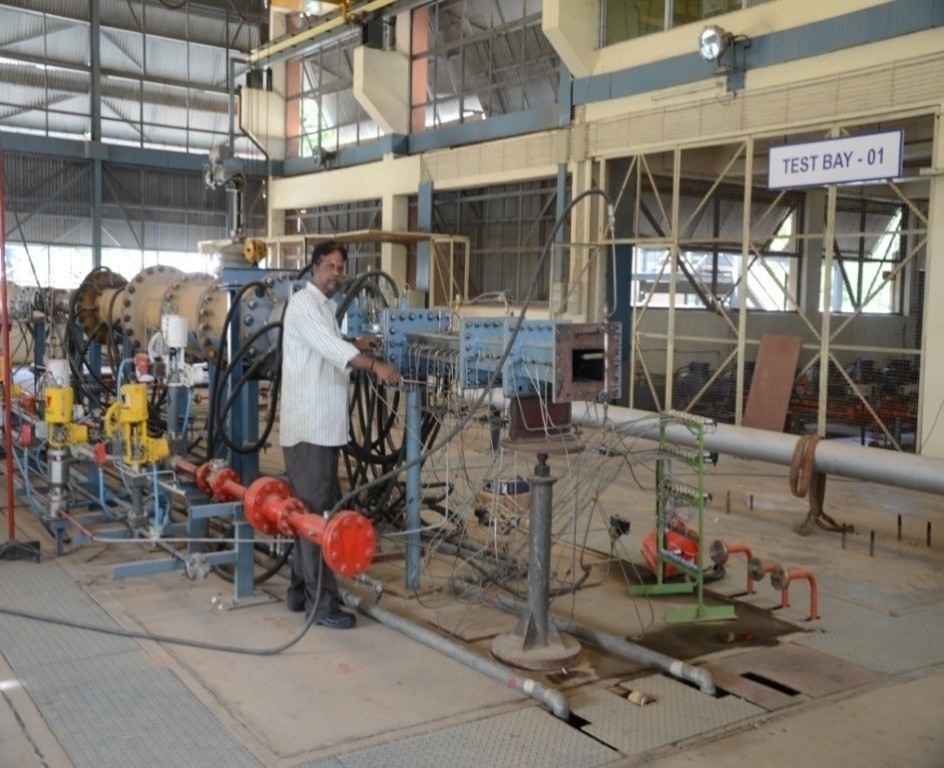 High Speed Combustor Test Facility
High Speed Combustor Test Facility (HSCTF) is first of its kind in India and a state-of-the-art facility for advanced combustor development. The major activities of the facility are experimental research and developmental testing of high speed combustors. These combustors can be experimentally evaluated under simulated inlet conditions in connected mode (up to Mach 2.3) and semi-free jet mode (upto Mach 3.6). In addition, the facility has a HIGH FLOW TEST RIG and an INTAKE TEST RIG with ejector system. Salient features of these test rigs are as follows:
Parameter

Connected Mode Rig

Semi-Free Jet Rig

High Flow

Test Rig

Intake Test Rig

Stagnation Temperature (K)

Upto 2000

Upto 1700

Upto 1000

300

Stagnation Pressure (bar)

Upto 10

Upto 20

Upto 8

Up to 10 (Primary)

Upto 0.1 (Secondary)

Mach number

2 - 2.3

3.6

Subsonic

Subsonic

Test Duration (sec)

Upto 50

Upto 10

Upto 200

Upto 300

Air mass flow rate  (kg/s)

10

25

50

20 (Primary)

3 (Secondary)

Kerosene (kg/s)

6

6

6

--

Replenishment Oxygen  (kg/s)

4

4

---

---

Hydrogen (kg/s)

0.1

0.1

---

---

Nitrogen (kg/s)

0.1

0.1

---

---

Instrumentation

NI Based State-of-the-art DAQ Systems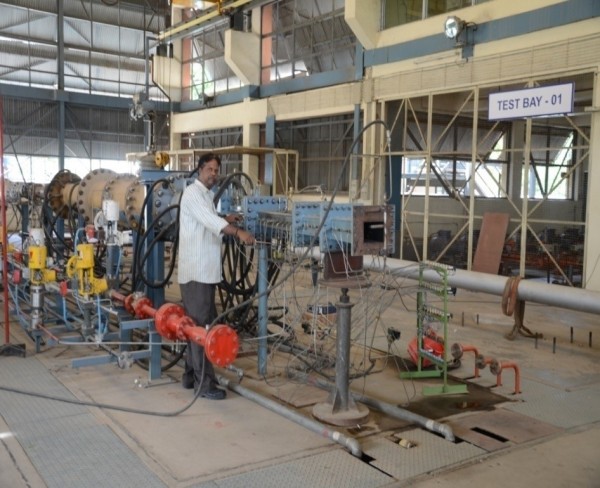 Connected Mode Rig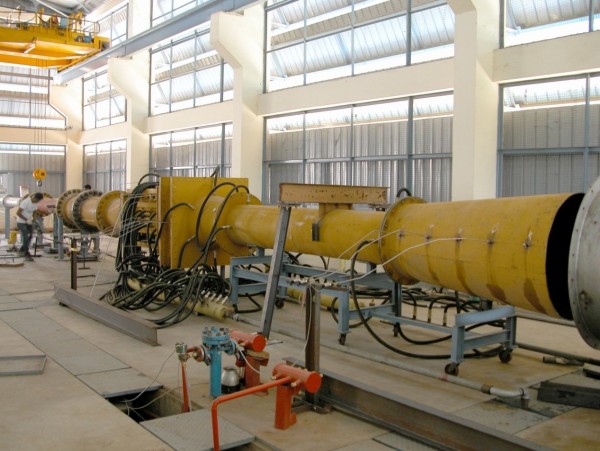 Semi-Free Jet Rig
The facility also has capability for pressure loss characterization of annular aircraft combustion chambers, combustion studies of full scale afterburners and small gas turbine engine nozzle development. Scaled intake models of aircrafts are experimentally evaluated for distortion and pressure recovery. Jet in cross flow studies is also an important part of the facility activity. The facility has scientific and technical expertise to design and develop systems/test rigs suitable to the client/ project needs.
Instrumentation: The facility is fully commissioned with in-house-developed state of the art instrumentation and control system. The entire facility operates in fully automated mode for various experimental configurations. Safety of the test rig / facility is guaranteed with robust built-in safety interlocks and emergency routines. The facility is equipped with 468 channels for measurement (pressure, temperature, mass flow rate etc.,), discrete and closed loop control operations.
Techniques: Schlieren, Shadowgraph, Mie Scattering, Pressure and Temperature Measurement, Unsteady Pressure Measurement, Cooled probes for total temperature and pressure measurement.
Customers: DRDO, ISRO, ADA, GTRE, GE India.
HSCTF List of Permanent Employees
| | |
| --- | --- |
| Name of Employee | Designation |
| Sathiyamoorthy K | Principal Scientist |
| Venu G | Senior Scientist |
| Jayaprakash C | Scientist |
| Tahzeeb Hassan Danish | Scientist |
| Srinivas J | Senior Technical Officer |
| Pratheesh Kumar P | Technical Officer |
| Satish Kumar M | Senior Technician |
| Gurappa | SFW(MACP) |